To say that 2021 was a turbulent year would be an understatement. The entire world had to adapt to the new normal including the sports industry. In the previous year, many sports events have been canceled and it soon became obvious that we would have to wait for a longer period of time until things go back to the way they were.
However, in time, it became obvious that sports events should no longer be postponed. But, it meant adapting the way that they are organized. So, let's take a look at some of the new rules that might impact the world of sports after Covid-19.
Attendance Will Change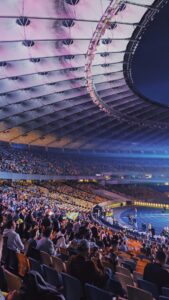 To start with, we are looking at a future where stadiums can be half-empty, especially before the pandemic completely ends. There could be some measures in the sense that people won't be able to sit close to each other. However, this is far better than the other alternative which is that all events would be streamed and that no audience would be allowed.
Moreover, we could also be seeing a future where attendance to a certain sports event would only be allowed for those who are vaccinated. But, it's very difficult for countries around the world to pass such laws that would put such restrictions, so this remains only a probability.
For now, we can only speculate what the future holds for sports fans who want to watch a game from the audience, but live streaming of sports events is always an acceptable option.
Players Will Need To Adapt To A New Routine
Just like the audience, there will probably be some new rules for the players as well.
To begin with, team sports like football and basketball will probably need to secure the safety and the health of the players who spend a lot of time in the confined spaces of the locker rooms. It's highly likely that at the beginning they will be obliged to wear masks while spending time together and talking about strategies. 
Also, additional preventive measures will be necessary like disinfecting the equipment more often or cleaning the gym more often.
Athletes who can replace closed with open courts, like tennis or basketball players, will probably do so, especially during practice time. 
Close Contact Sports Should Be Monitored The Most
It wouldn't be that much of a shock if leaders of the sports industry decided that athletes that participate in a discipline that requires close contact should be tested more often than the rest of the athletes. This includes wrestlers, boxers, and even basketball and football players who make occasional contact while playing.